X Close
Our Projects
Blissfully situated on a lush clifftop promontory in an exquisite island destination, our portfolio of ultra-luxury residencies is open for investment opportunities for a very limited time. These properties are conceptualized by a celebrated design studio and constructed in harmony with nature.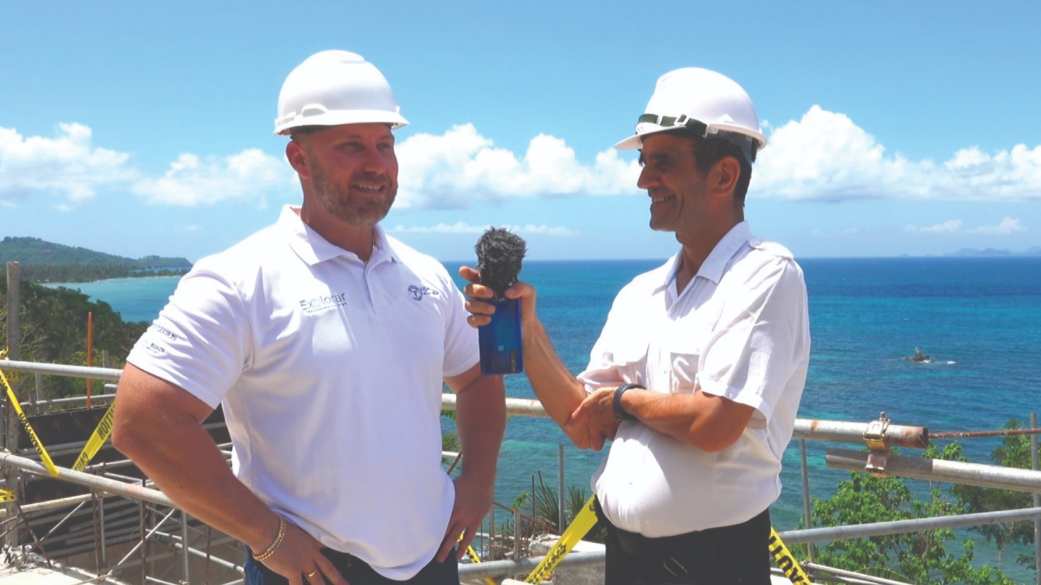 Construction Update August 31, 2022On Site and On Point with CEO Rick Lee
Patrick Monti, Senior Real Estate Sales Head meets Rick Lee, CEO of The Pavilions El Nido and El Nido Beach Resorts
Patrick Monti of Osiris Investissements who has been in the international real estate sales industry for decades was able to personally meet and interview Rick Lee, the CEO of The Pavilions, at the El Nido construction site.
Patrick Monti: Hello Rick, I'm glad to be here at the heart of your project, your magnific project in El Nido. Everything here is very magnific, everywhere I look … I like it.
Patrick Monti: Why did you choose the Philippines? Why Palawan?
Rick Lee: Things have a way of choosing you sometimes. I really never planned it. Coming to the Philippines back in 2006, I immediately fell in love with the culture and the people. It's different than the United States and other countries. I feel that people here are much friendlier. You can be yourself and sometimes you can feel more free. And this country has so much beauty and so much opportunity, especially in El Nido, Palawan. When we knew we were ready to buy a property out here and build the resort. Believe it or not, I physically walked over 60 properties in Palawan and when I came to this site, I realized it was special. With the unique landscape from mountain to sea with uninterrupted views. There's nothing like it in all the Philippines.
Patrick Monti: What is the main reason for your Coup de Coeur?
Rick Lee: I love to do something that nobody else has done before wherein everybody would say, "Oh you can't do that." So that's my challenge. I love to do things that people think are impossible. I'm always challenging myself and that's what I strive on and my passion. the end of the day, it's about our children and for our family.  This is a family project, and we want it to be special. We want it to be something that is memorable that can leave a legacy.
Patrick Monti: Who are the future customers of this project?
Rick Lee: When we look at the data from the foreign tourists that are coming in, we are seeing a lot of increase in European travelers, and many travelers coming from all over Southeast Asia, and even Australia. We are noticing a lot of tourists coming into the Philippines especially now that we are witnessing some "revenge travel" after being couped up for so long during the pandemic. People are excited to travel overseas. The Philippines is set to really grow its tourism especially with government support, new airports and all the infrastructure projects and highways coming in. El Nido is very popular in Southeast Asia and is also on the map as one of the top beach destinations in the world.
We are targeting the luxury market. The supply for luxury international branded resorts like The Pavilions is very limited in El Nido. We are targeting the luxury adventure traveler who can enjoy the raw natural beauty of El Nido with all the comforts that you would expect. We are very confident that The Pavilions El Nido will be known as one of the top luxury beach resorts in the country.
Patrick Monti: Tell us more about Palawan.
Rick Lee: if you're going to travel to any region in the Philippines, it should be Palawan. A lot of the tourists fly straight to El Nido from Manila because of its raw, natural beauty here. It's untouched and El Nido has been awarded as the number one beach destination in the world consistently year after year. As a five-star resort like this, we're providing all the accommodations and amenities that international guests are expecting with a great value for their money.

Patrick Monti: What is your agenda for this project?
Rick Lee: We'll be finished with the first phase of villas before the end of this year. We aim to complete the construction of Phase 1 at the end of 2023 and full operations in 2024. Completion of Phase 2 is scheduled by the end of 2024.
Patrick Monti: What makes this project exceptional?
Rick Lee: I believe it's the natural landscape. If you look around, you will see some amazing islands that are untouched, and the raw beauty of the area is absolutely amazing. When our guests visit us year after year, they can experience a new adventure with plenty of adventures and activities.
Patrick Monti: What is your biggest pride in this project?
Rick Lee: With everything that we do, we put our heart and soul into every single detail. I take pride into making sure we select the right materials. We're at the site every month, hand selecting all the materials and paying attention to all the design quality. We want our guests to see the deep attention to detail that we put into this project. In addition, the memories that they'll be able to share with their families, that's something that they can keep for a lifetime.
Patrick Monti: What about your green practices?
Rick Lee: "Design with a purpose" is written all over this development. Sustainable tourism is what we set to achieve. We have master planned our entire project, which considers environment protection, water conservation, and with building materials that can be recycled.
With a regenerative design it is important for us to be responsible when sourcing and purchasing of raw materials. By manufacturing locally and with the use of local materials, we're able reduce our carbon footprint from importing. Everything goes into the sustainability plan, and we are one of the very few resorts who are serious about it.
Patrick Monti: Lastly, what's next for you?
Rick Lee: The future for us is El Nido. There's really no other part of the Philippines that we believe in as much. We know the area and we know what's on the horizon for El Nido. We started with ten hectares, and we now have over twenty-five hectares in the estate with another 30+ hectares under contract just to preserve the nature around us, so it won't become overly developed 20 years from now. Next year we will install a 5 MW Solar Farm to supply renewable energy to our resorts and facilities as well as an Aquaponics Farm to grow our food organically and chemical free.
Many of you are also aware that we will soon be launching a four-star resort project called, Explorar Treehouses. All of our resorts will be developed within our El Nido estate, recently named as EcoTown. This eco-friendly project sited in El Nido is the third phase of a comprehensively designed, sustainable commercial development including factory retail outlets, outdoor events, sustainability center, cultural museum and entertainment center. The architectural theme creates a pedestrian walkway lined with two-story stores reminiscent of the historical Spanish-Filipino era. We also want to promote local artists and craftsmen where they can actually sell their goods and products that they make, and this helps us support the community so we can all grow together.
Get StartedBook a Consultation
Private ConsultationBook a personalized private consultation with one of our experts

View Our ProjectsTake a look at our portfolio of premium hotel investment options

High-Yield InvestmentSelect one of our hotel investment offerings to start with

Enjoy Perks and PrivilegesGain access to our exclusive investor community privilege and holiday benefits
SCHEDULE A CALL
The El Nido Beach Investment Report 2023
Learn more about market forecasts & exciting opportunities to enjoy invaluable financial benefits with special privileges in Southeast Asia's fastest growing tourism industry.