X Close
Our Projects
Blissfully situated on a lush clifftop promontory in an exquisite island destination, our portfolio of ultra-luxury residencies is open for investment opportunities for a very limited time. These properties are conceptualized by a celebrated design studio and constructed in harmony with nature.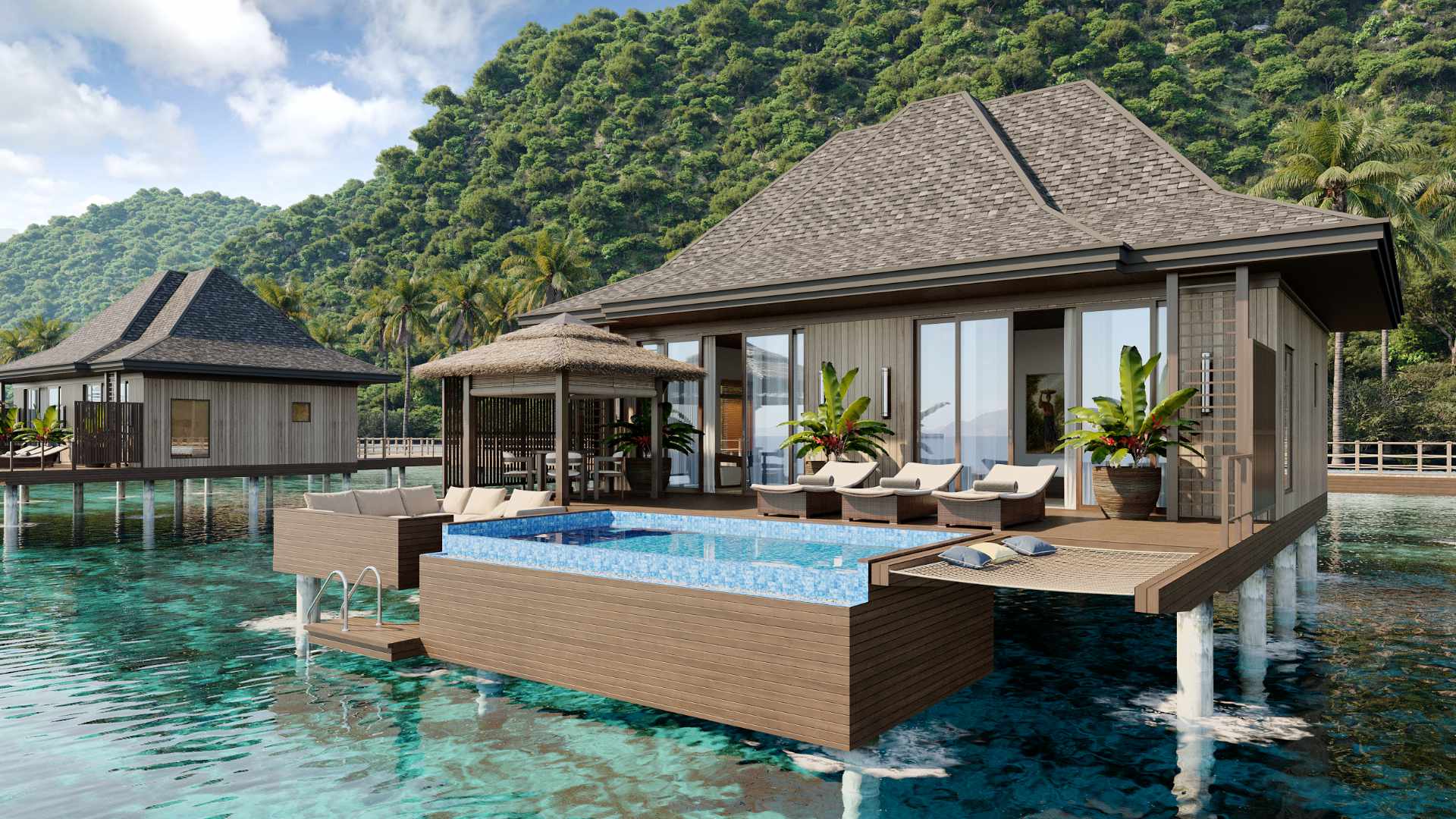 Construction Update July 8, 2020Philippines – does it make for the perfect post-pandemic investment location?
It's not a name that immediately springs to mind as a property investment destination, but the Philippines – the small collection of islands in southeast Asia with a huge population – is being suggested as one possible isolation-holiday-friendly investment.
A significant chunk of the world's population has experienced some form of lockdown, which has provided endless opportunity to re-evaluate daily life. One upshot of this has been a surge of interest in overseas property, as people both develop a 'seize the day' outlook and seek to make investments in Covid-19 safe havens.
El Nido Beach Spa & Resort insists its development in the Philippines fits the bill perfectly. Rick Lee, chief executive of El Nido Beach Spa & Resort in Palawan, said: "Humanity has been on quite the journey. While enquiries evaporated during the peak of the pandemic, as lockdowns lift, we're speaking to more customers who crave a connection with nature, reliable warm weather and, most importantly, open space."
He added: "A five-star resort on a far-flung Philippines archipelago province, purpose- built to suit a post-pandemic era, feels like the perfect antidote to urban coronavirus house arrest."
El Nido Beach Spa & Resort, which is looking to be ready to welcome its first guests in 2022, is being constructed to alleviate any 'new normal' investment fears. Upon arrival, 'sanitising stations will eliminate 99.9% of germs', while touch points such as key cards, TV remotes and food menus will be kept to a minimum.
The detached luxury villas and over-water bungalows 'are well-distanced from one another' and include full private kitchens 'to enjoy in-room dining'. Additionally, all staff will be following strict hygiene protocols.
Fortunately, Palawan was hardly touched by Covid-19 and the locals barely knew of its existence. As one of the most sparsely populated regions in the Philippines, Palawan comprises one main island surrounded by a cluster of 1,700 smaller ones and was declared a Biosphere Reserve in 1990.
It is affectionately known as the Philippines' last ecological frontier, offering diverse flora and fauna, coral reefs, mangrove, tropical rainforest, powder-white beaches, and turquoise seas peppered with vegetation-clad limestone rock formations.
Palawan has, in fact, become something of a media darling thanks to its appearances in films and TV shows. Scenes from the Matt Damon action-thriller The Bourne Legacy were filmed there, as were several editions of reality TV show Survivor, including Russia's current 2020 series.
Famous faces such as Bill Gates, Tom Cruise, Mariah Carey, Naomi Campbell and Robert De Niro are all said to have visited Palawan, but at the same time authorities have been conscious to preserve the region's pristine natural beauty and 'the floodgates have not been opened to Thailand-style tourist hordes'.
When it comes to tourism, 2019 was a year of celebration for the Philippines as it received 8.26 million international visitors – up 15.24% on the year before – with these guests contributing $9.31 million to the economy, increasing by 20.81% on 2018.
The Department of Tourism calls for each visiting individual to be a responsible tourist and 'help preserve the country's natural and manmade wonders'. Before the pandemic hit, the Philippines economy had shown similar stratospheric growth, ranking as the sixth richest in southeast Asia by GDP per capita values, behind Singapore, Brunei, Malaysia, Thailand and Indonesia.
El Nido Beach Spa & Resort, which lies to the north of Palawan, is well-connected geographically thanks to direct 1h 20min AirSWIFT flights from Manila International Airport to the newly-upgraded Lio – El Nido Airport. This is followed by a short 25-minute drive on the recently-expanded six-lane highway that is already complete in numerous townships.
The ten-hectare beachfront estate enjoys panoramic tropical ocean views and a number of features, including a clubhouse and spa, swimming pools, two restaurants, three bars, a cable car, helipad and a boat pier.
Phase one is made up of 46 one-bedroom and nine two-bedroom luxury villas, as well as 20 over-water suites – each with their own private plunge pool.
Phase two, meanwhile, will bring an additional 20 luxury villas. The development is set to be built with minimal environment impact and sustainability in mind, and remains on schedule to be fully operational by 2022.
As a 'fully-managed resort', this is described as a passive investment, with buyers expecting guaranteed rental returns alongside up to four weeks' free usage each year. Prices start from $239,000 (£192,000) for a one-bedroom villa with staged payments throughout the build.
source: propertyinvestortoday.co.uk
Get StartedBook a Consultation
Private ConsultationBook a personalized private consultation with one of our experts

View Our ProjectsTake a look at our portfolio of premium hotel investment options

High-Yield InvestmentSelect one of our hotel investment offerings to start with

Enjoy Perks and PrivilegesGain access to our exclusive investor community privilege and holiday benefits
SCHEDULE A CALL
The El Nido Beach Investment Report 2023
Learn more about market forecasts & exciting opportunities to enjoy invaluable financial benefits with special privileges in Southeast Asia's fastest growing tourism industry.