X Close
Our Projects
Blissfully situated on a lush clifftop promontory in an exquisite island destination, our portfolio of ultra-luxury residencies is open for investment opportunities for a very limited time. These properties are conceptualized by a celebrated design studio and constructed in harmony with nature.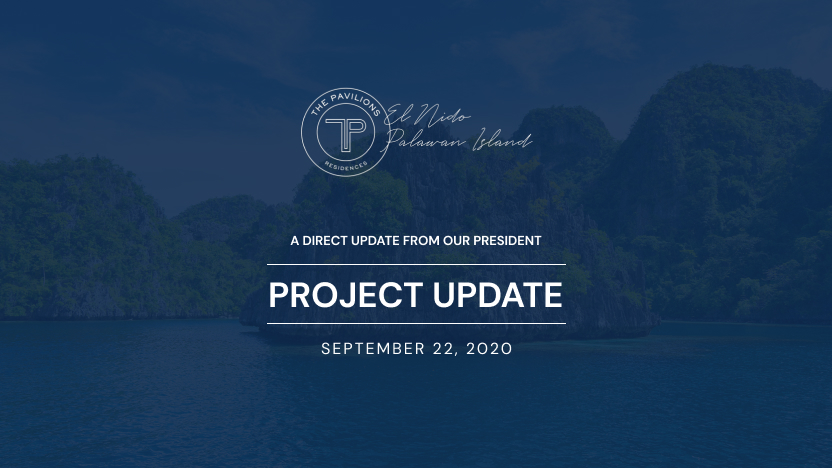 September 22, 2020A Direct Update from our President
21 September 2020
We are happy to share some more detailed information about our progress to date, our on-track construction schedule, and a few insights on key issues of interest.
Now recognised as The Pavilions El Nido, Palawan Island, we are very pleased to report that our resort is over 50% sold out in phase one. Our project managers, architects and engineers have been hard at work to ensure that this new resort meets, and exceeds, the exceptional quality standards you would expect from an international five star beach resort bearing The Pavilions Hotels & Resorts brand.

The Pavilions El Nido, Palawan Island, is being built to last a lifetime, and this starts with a solid foundation. Geotechnical engineers are currently focusing on the construction of earth structures, including dams and retaining walls; foundations, including floor slabs and footings; and sub-surface facilities, including tunnels and pipelines. The foundations are set to be completed, along with the first structures, by the end of the year.  Once the foundational elements are complete, the above ground structures develop very quickly.
Meanwhile, our project management consultant, T1 Savills, has confirmed that there are no outstanding technical or building permit issues which could be presumed to delay the successful on-time completion of this project. Our land is already properly zoned and deemed suited to our commercial resort development.
We are on schedule and I will be heading to the site the first week of October to meet with our site engineers, contractors, suppliers, and local authorities . The first block of villas will be complete by 31 December 2020, and we remain on track to open our doors for business in 2022 – bang on time for high season, and in line with the Philippines Department of Tourism's (DOT) expectations for international travel to return to normal.
Finally, stay tuned for the announcement of a new Board Member who will make a special presentation to agents and investors. We have a few exciting plans for future phases, which we know you will be anxious to hear about.
The El Nido Beach Investment Report 2023
Learn more about market forecasts & exciting opportunities to enjoy invaluable financial benefits with special privileges in Southeast Asia's fastest growing tourism industry.