X Close
Our Projects
Blissfully situated on a lush clifftop promontory in an exquisite island destination, our portfolio of ultra-luxury residencies is open for investment opportunities for a very limited time. These properties are conceptualized by a celebrated design studio and constructed in harmony with nature.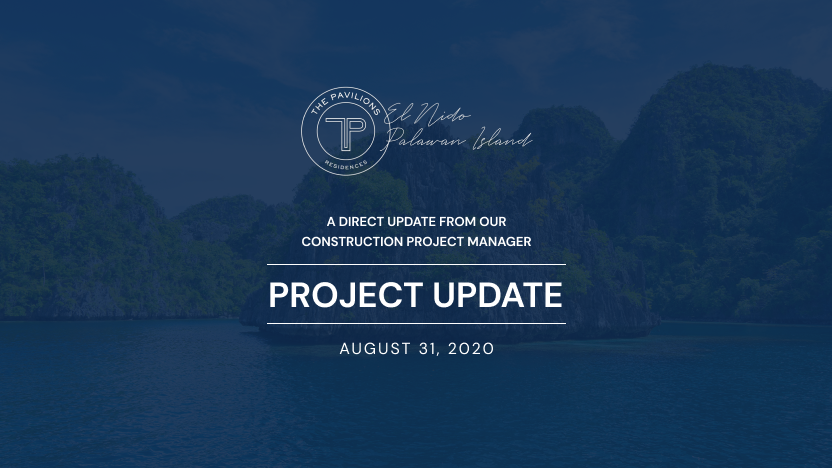 August 31, 2020A Direct Update from our Construction Project Manager
August 31, 2020
Where better to get a comprehensive update on progress at the newly-renamed The Pavilions El Nido, Palawan Island than from our construction project manager – T1-Savills.
Bien Bullicer is their Head of Operations:  "There is genuinely nothing else like The Pavilions El Nido, Palawan Island.  It will be truly unique in the market, and easily one of the best all-inclusive resorts in the Philippines.  That said, we carefully selected the project management team for their experience in the local area – they recently completed a beautiful hotel in El Nido – and their familiarity with hotels in the Philippines."
"Our team also have a deep understanding of the supply chain.  It's so important that when we buy materials, there are no gaps between supply, delivery and installation.  They're experts in scheduling and planning, have technical knowledge of how to structure the site development and the infrastructure servicing the facility, and also how to develop the back of house arrangements."
Naturally, current travel and health restrictions have posed several challenges, but Bien is confident that The Pavilions El Nido, Palawan Island is on track.
"Communication, collaboration and substantiation are at the heart of a successful project.  The current travel restrictions, and limitations on face-to-face contact, impact on our ability to get around a table and thrash out design and contract issues, or head to site to resolve things on the ground.  Online video conferencing solves many of the problems, albeit slower than face-to-face meetings, but our intention is to mobilise our site team earlier than planned to address this dilemma.  In the short-term, we can see logistical challenges, but we are driving hard into the local supply chain to minimise risk and working to identify vendors who can get their products to site without delay."
Significant progress has been made, and plenty of the heavy groundwork is underway.  Bien explains how The Pavilions El Nido, Palawan Island is gradually taking shape.
"The private access road to the site is near-ready and we are in the throes of completing the site accommodation and cutting further roads into the resort.  To ensure an auditable process, our project management team have tendered the first phase of the works, and these are now under commercial review.  We expect to award and mobilise the contractor for the base build by the end of next month.  Before the end of the year, we will be at the finishing stages of the mock-up villas, including the road work leading to them.  We will also be in receipt of several important designs from various consultants.
"Meanwhile, in the last few days, President of the development company, Gemmalyn Crosby, has added her signature to the architectural blueprints and various application forms.  These documents are now ready to be couriered to El Nido, Palawan, where they will serve as an official petition for the building permit required to construct the first villas on site.  A very exciting landmark for us all."
Bien finishes:  "We've assembled a team of top professionals and it's fantastic to see great Filipino talent coming together to deliver a world-class project.  Of course, we take pleasure in the geographic location, and feel truly blessed to bring job opportunities to the local El Nido community while we embark on this great journey."
The El Nido Beach Investment Report 2023
Learn more about market forecasts & exciting opportunities to enjoy invaluable financial benefits with special privileges in Southeast Asia's fastest growing tourism industry.