X Close
Our Projects
Blissfully situated on a lush clifftop promontory in an exquisite island destination, our portfolio of ultra-luxury residencies is open for investment opportunities for a very limited time. These properties are conceptualized by a celebrated design studio and constructed in harmony with nature.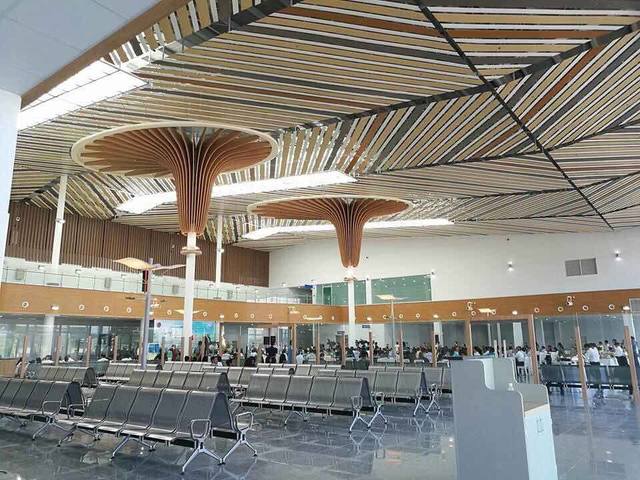 May 5, 2017Puerto Princesa International Airport's New Terminal
Operations at the new terminal of the Puerto Princesa International Airport began on Thursday, May 4, following the inauguration of the P4.5-billion facility on Wednesday, May 3.
In a statement, the Department of Transportation (DOTr) said the new terminal has a floor area of 13,000 square meters, with a seating capacity of 1,500 and parking slots for more than 200 cars.
Its 2,600-meter runway, according to the DOTr, can accommodate bigger aircraft like an Airbus A330, which has a seating capacity of 400. There are 6 parking bays in the new terminal.
Around 20 flights are operating daily, to and from the following destinations:
Philippine Airlines (PAL) – Manila, Clark, Taipei-Taoyuan
PAL Express – Manila, Cebu
Cebu Pacific – Manila, Cebu, Iloilo
AirAsia – Manila, Cebu, Davao
Air Juan – Busuanga, Cuyo
In a separate statement, Cebu Pacific said it will now upgrade its Puerto Princesa flights from the 180-seater Airbus A320 to the 230-seater Airbus A321 neo.
The airline noted that it flew the most number of passengers to and from Puerto Princesa in 2016, "garnering over 50% of the total market share."
"Cebu Pacific shares the joy of the Palaweños in the opening of the newest world-class airport in Puerto Princesa, as this is expected to boost trade and tourism even more in [Palawan]," Cebu Pacific vice president for corporate affairs JR Mantaring was quoted as saying.
"We are positive that with this expansion, we will be able to help achieve the government's goal of increasing tourist arrivals to Palawan. With the new airport able to handle international flights, it now makes Puerto Princesa attractive for direct connections to and from key foreign tourist markets," Mantaring added.
Air Juan, which "pioneered the Puerto Princesa to Cuyo route" and is "the only airline that operates the Puerto Princesa to Coron and the Puerto Princesa to Boracay routes," also hailed the expected boost in tourism.
"Air Juan started its operations in Puerto Princesa by connecting it to Cuyo Island and we have expanded our operations since then. Puerto Princesa will always be our hub and with this new facility, expect that Air Juan will continue to open more routes and opportunities for the people of Palawan, especially in areas that are not served by any other local airline," John Gutierrez, Air Juan head of business development, was quoted as saying.
According to the DOT, the new terminal "boasts a state-of-the-art air navigation system" that complies with international standards, "enhancing the airport's safety operations (CAT-1) with an 1800 KVA standby generator set."
Source: Rappler
The El Nido Beach Investment Report 2023
Learn more about market forecasts & exciting opportunities to enjoy invaluable financial benefits with special privileges in Southeast Asia's fastest growing tourism industry.