X Close
Our Projects
Blissfully situated on a lush clifftop promontory in an exquisite island destination, our portfolio of ultra-luxury residencies is open for investment opportunities for a very limited time. These properties are conceptualized by a celebrated design studio and constructed in harmony with nature.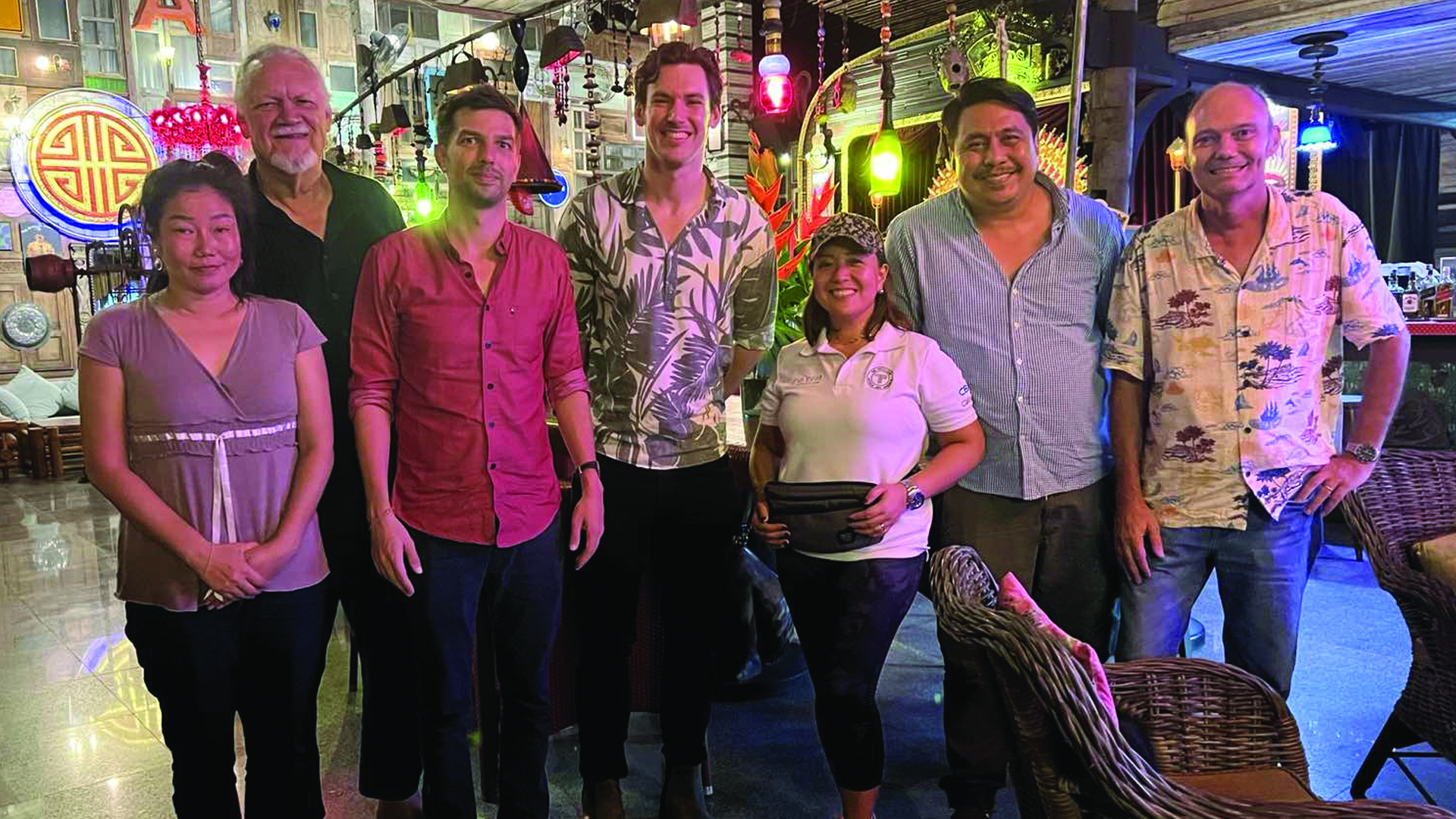 (L-R) Khun Mew - Production Assistant at Camerawork Thailand, John Underwood - Founder at Underwood Art Factory, Louis Cousin - Head of Investment at El Nido Beach Resort, Zachary Underwood - Managing Director at Underwood Art Factory, Kathy Solis - COO at El Nido Beach Resorts, Karlo Davila - Business Development Manager at El Nido Beach Resort, Raphael Franco - Director at Camerawork Thailand
Construction Update November 8, 2022Development Team Visiting Key Partners in Thailand
The Pavilions Phuket: A taste of the excellence that awaits our future guests at The Pavilions El Nido.
Our development management team members, Kathy Solis (Chief Communications Officer), Karlo Davila (Business Development) and Louis Cousin (Head of Investments) were warmly hosted by The Pavilions Phuket, Elena Orru, their General Manager and Staci-Lee, their Marketing Manager at The Pavilions Phuket. The main purpose of their visit was to experience first hand the quality of the accommodation, as well as the excellence of their service that will soon be experienced in El Nido.
The team was also able to witness first-hand the travel rebound at The Pavilions Phuket with occupancy rate reaching 90% booking for November and even higher occupancy is expected for peak season.
Our Philippine development company, Eureka Resorts is constructing a world class branded luxury beachfront estate The Pavilions El Nido, and another global-brand, Explorar Treehouse El Nido, with its construction to commence in 2023.
EcoTown El Nido: a Vision Under Construction
In the journey to make this exceptional development, in 2020 the project launched international sales to overseas investors and two years later, the first hotel development of villas has been nearly sold out, and due to the overwhelming demand for unique luxury villas in El Nido, Explorar Treehouses is now open to investors.
Some of Eureka Resort's key partners happen to be located in Thailand and so our Sales team also took a trip to Kho Phangan to further solidify synergies between our businesses.
Treehouse Villas Khao Yao: A Best-Selling Hospitality Concept Designed and Manufactured by Underwood Art Factory
Thanks to Zac Underwood who personally arranged it, our team also had the rare opportunity to get a guided tour of the privately owned and operated Thailand resort Treehouse Villas Khao Yao.
Uniquely designed by John Underwood, the Treehouses are luxury villas whose main structure is as solid as elegant, made of hot-dipped galvanized steel (recyclable, anti-rust and ideal to last in tropical climates), stylized with great detail touches, featuring high ceilings and a functional and "feel good" layout that emphasizes outdoor living spaces and the connection with nature.
Warm thanks to Mark Landgraf, the resort's General Manager who took the team around for a comprehensive tour, sharing valuable information that will for sure help us to articulate to our investors why Treehouses are clearly a winning product in the hospitality market.
It is highly recommended for anyone in search of a profoundly rejuvenating stay in James Bond's most famous sceneries.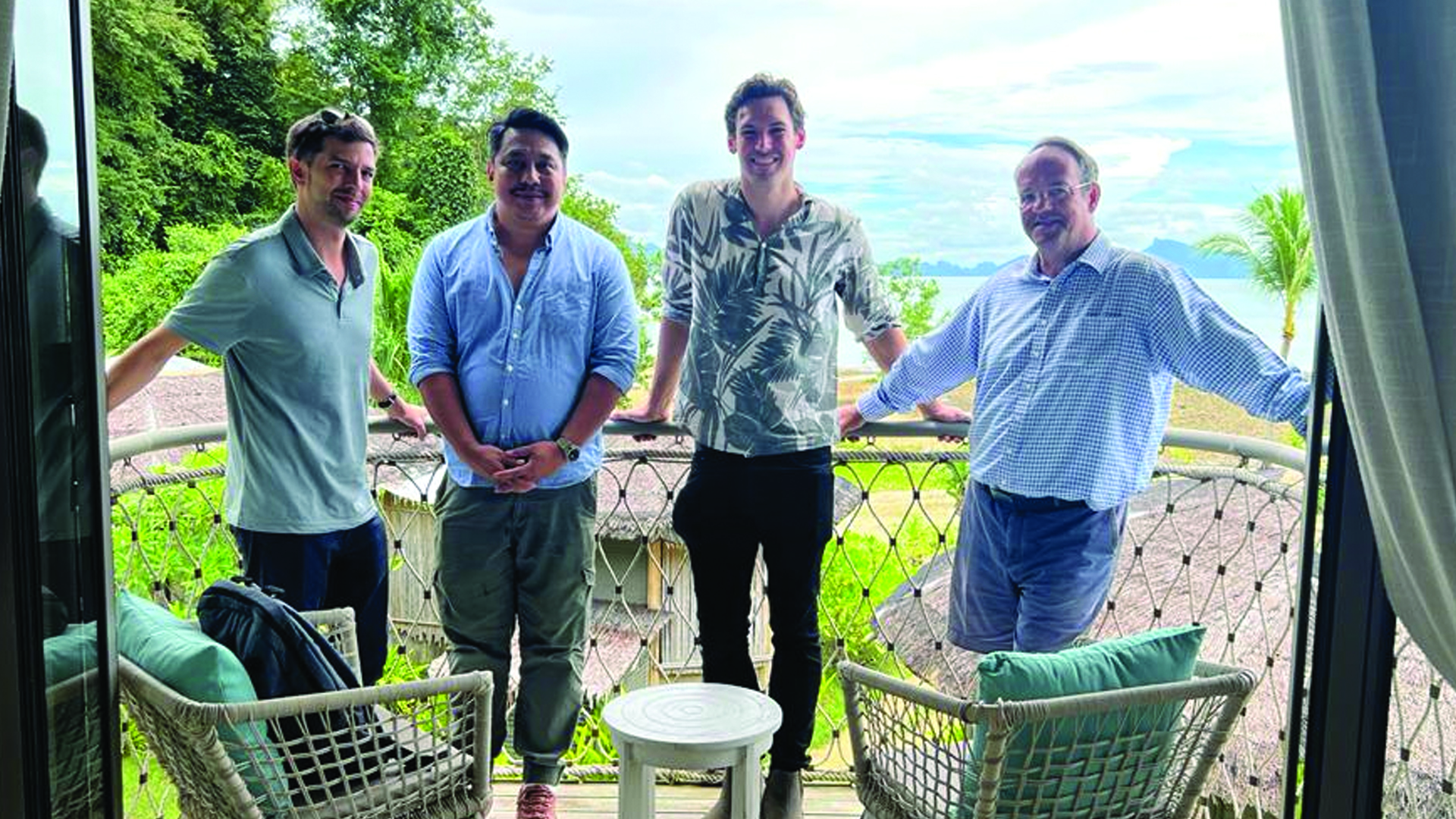 (L-R) Louis Cousin – Head of Investment at El Nido Beach Resort, Karlo Davila – Business Development Manager at El Nido Beach Resort, Zachary Underwood – Managing Director at Underwood Art Factory, Marc Landgraf – General Manager at Treehouse Villa Koh Yao
Underwood Art Factory: Creativity Embodied Masterpieces
There are really no words to describe Underwood Art Factory and only someone who has been there could really understand the energy that flows into this unique complex where our Treehouse villas and furniture will be manufactured.
John and Zac, father and son team are very well  known in the industry as hospitality leaders, such that Bill Bensley and Bill Heineke call on them to participate in various design projects for the most luxurious venues all around the world. Earlier on, John was already getting project opportunities in Thailand, eventually specializing in designing and producing products for luxurious hotel decors, particularly using high-quality metal materials.
Underwood Art Factory can also rely on Zac's growing reputation – developing his own designs, with his own personality and touches, and bringing his youth, talent and energy to a very endearing family venture.
Learn Why Treehouses Villas are in High Demand
You'll know it soon enough when we release the exclusive video interview that John granted to our Head of Investor Relations, Louis, who had the privilege to get him explaining the full story behind these Treehouses.
You'll soon also have the opportunity to discover a "behind the scene" factory tour by Zac who took our team around the plant and went into more technical explanations about the design and manufacturing process, based on original designs coming from the artists' minds, then programmed into computers for error-free precision engineering at the highest quality.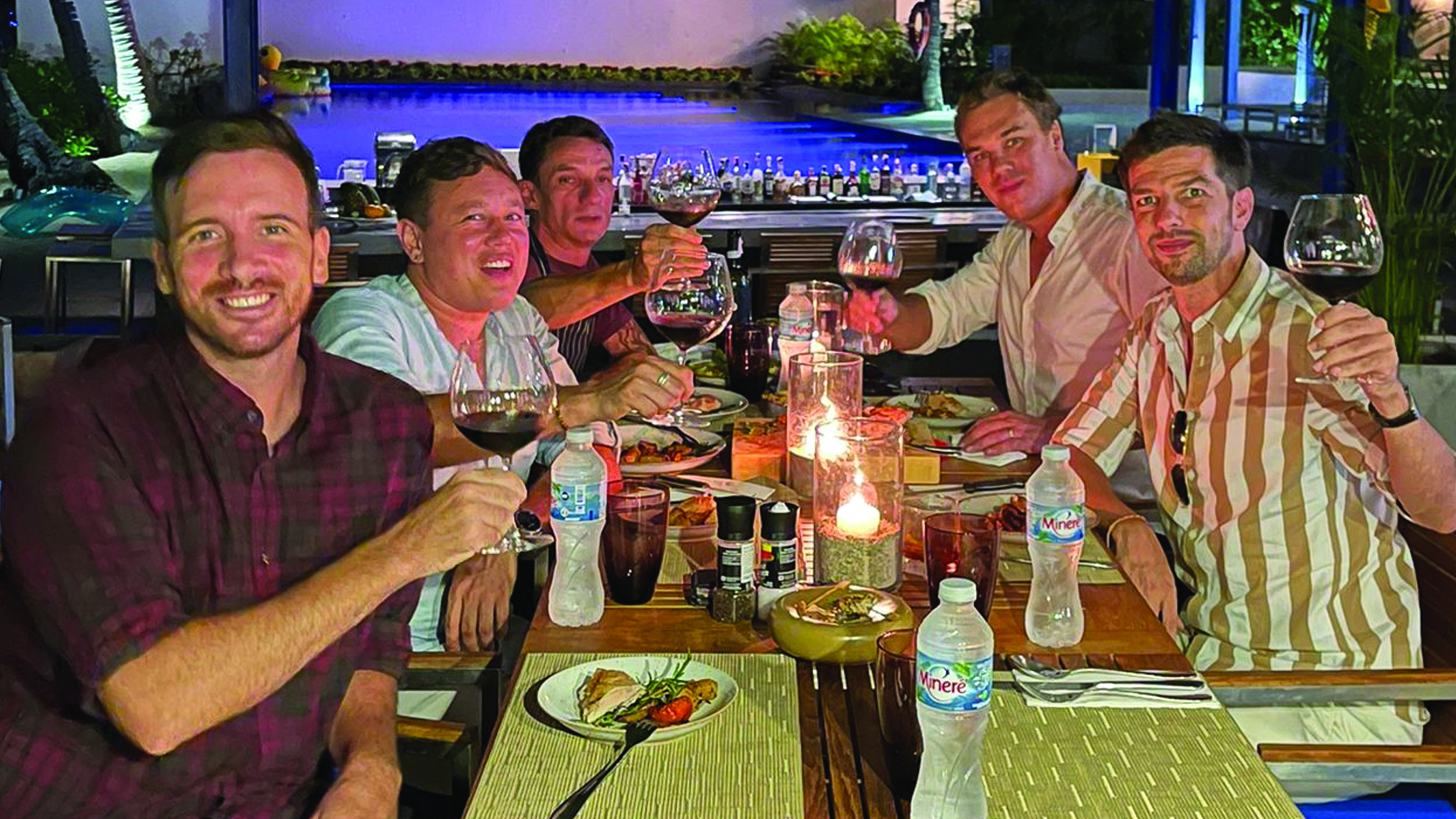 (L-R) Adam Boulton – GM Explorar Koh Samui, Tim Sergeant – CMO at Explorar Hotels & Resorts, Vladimir Siljegovic – Area Executive Chef at Explorar Koh Pangan, Neils Huby – CEO at Explorar Hotels & Resorts, Louis Cousin – Head of Investment at El Nido Beach Resort
Explorar Hotels and Resorts: A Perfect Match for Treehouses in El Nido
Additional meetings took place in Koh Phangan, to meet Explorar Hotels and Resorts, CEO and CMO, who were on site as they just opened their first hotel in Thailand, with the next opening scheduled in Koh Samui in December.
The Explorar brand started with actual travel data: Millennials and Gen Z travel more than any other generation.
Hospitality brands must be built to address the needs of Millennial and Gen Z travelers, blending beautifully-designed accommodation with coworking, recreation, wellness, and local experiences.
Gordon Oldman, Co-founder chairman, together with Co-founder CEO Niels Huby and Co-founder Chief Marketing Officer Tim Sargeant, all sharing the same perspective on the perfect match between Explorar market positioning and with Treehouses El Nido, with the same enthusiasm.
Not only are the Explorar founders excited about this new partnership with the launch of Treehouses El Nido, it also captured the attention of international media and public relations groups composed of editors and journalists at the recent TravMedia's International Media Marketplace which happened in Singapore, and it was reported that Explorar Treehouses El Nido, was a huge success and was the hottest eco-resort at the event.
Click here to know more about our newest project and answer a few simple questions to qualify as investor –> (Explorar Treehouses El Nido link)
Get StartedBook a Consultation
Private ConsultationBook a personalized private consultation with one of our experts

View Our ProjectsTake a look at our portfolio of premium hotel investment options

High-Yield InvestmentSelect one of our hotel investment offerings to start with

Enjoy Perks and PrivilegesGain access to our exclusive investor community privilege and holiday benefits
SCHEDULE A CALL
The El Nido Beach Investment Report 2023
Learn more about market forecasts & exciting opportunities to enjoy invaluable financial benefits with special privileges in Southeast Asia's fastest growing tourism industry.