X Close
Our Projects
Blissfully situated on a lush clifftop promontory in an exquisite island destination, our portfolio of ultra-luxury residencies is open for investment opportunities for a very limited time. These properties are conceptualized by a celebrated design studio and constructed in harmony with nature.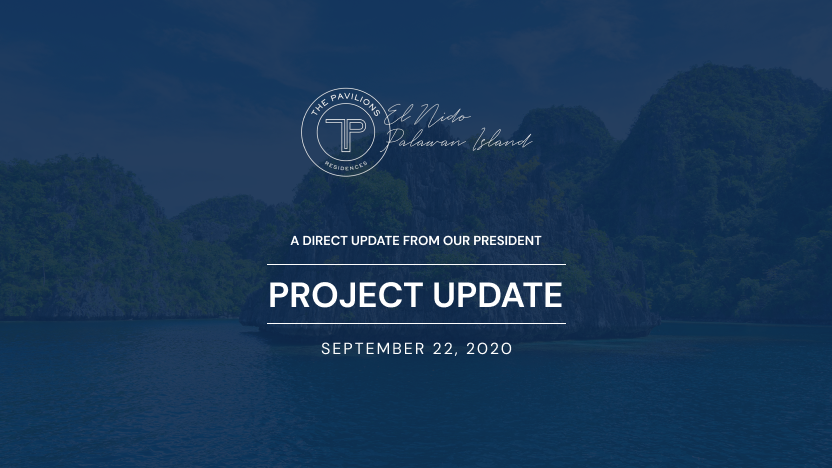 September 12, 2022September 2022 Progress Update
Welcome to our September 2022 Construction update. El Nido, Palawan has been experiencing a steady increase of local and foreign visitors doing "rebound travel", after being involuntarily couped up by the pandemic.
Hotels and establishments are back in business and almost all have opened their doors again to welcome guests after a long hiatus.
We are excited to share with you what we have accomplished this month.
This month's update includes:
• Manpower Over 200
• Eco-Friendly Geocell Walls
• Completed Warehouse
• Overwater Sub-Structure Fabrication
• Groundbreaking of Main Lobby
• Main Lobby Interior Concept
• Land Villas
MANPOWER OVER 200
Construction is in full swing as we continue to ramp up our manpower on site as well as in the administration side from our Manila headquarters handling operations. To date, we have mobilized over 200 skilled workers on site and continues to increase.
ECO-FRIENDLY GEOCELL WALLS
There is much progress in the construction of our Geocell retaining walls for the villas and road network. We put much attention into the details for our resort infrastructure and natural storm drainage.
COMPLETED WAREHOUSE
Our new 1,000 sqm warehouse enables us to store even more construction supplies. Because of this, we can be more efficient with our bulk importing of building materials and furnishings. In line with our regenerative architectural design philosophy, this new warehouse will later on be repurposed and converted into our multi-purpose special events pavilion that will house our guests' most memorable occasions located within our EcoTown.
OVERWATER SUB-STRUCTURE FABRICATION
In the August 2022 monthly report provided by CBRE, confirms that the site is making great progress and is on target for the ongoing fabrication of sub structure pre-cast footings and columns for installation of our boardwalks and overwater villas.
GROUNDBREAKING OF MAIN LOBBY
Last month we broke ground for our Front of House and Back of House facilities. Now that the layout is staked and the building pads are complete, it's full speed ahead as we begin to construct our main facilities for our hotel operations and welcome all guests.
MAIN LOBBY INTERIOR CONCEPT
As the final construction drawings and interior designs are completed, the main Lobby is finally coming alive right before our eyes. Our interior designer, Underwood and Lead Architect, KDAS are working together with their design teams to make The Pavilions El Nido as one of the best five-star beach resorts in the Philippines.
LAND VILLAS
We have never been as excited as we are now as near the 90% completion of our first mockup villas. We are all very excited to see the great achievement from all the teams and look forward to welcome you here very soon!
The El Nido Beach Investment Report 2023
Learn more about market forecasts & exciting opportunities to enjoy invaluable financial benefits with special privileges in Southeast Asia's fastest growing tourism industry.