X Close
Our Projects
Blissfully situated on a lush clifftop promontory in an exquisite island destination, our portfolio of ultra-luxury residencies is open for investment opportunities for a very limited time. These properties are conceptualized by a celebrated design studio and constructed in harmony with nature.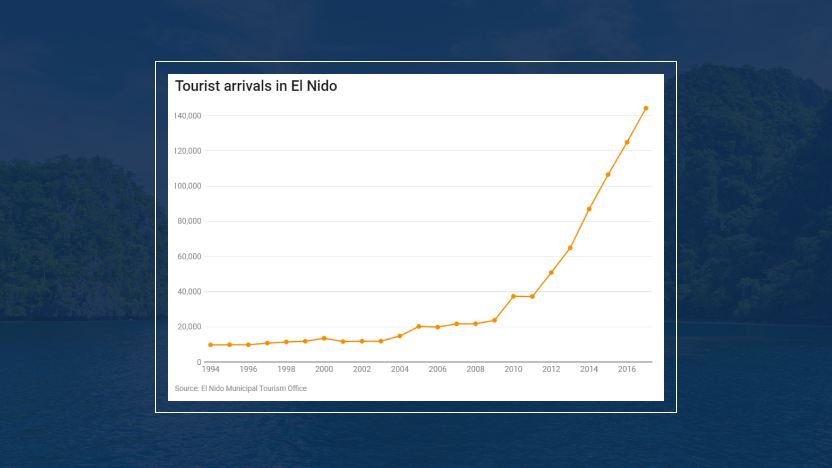 December 1, 2018El Nido Palawan Tourism's Boom
Located in the northern tip of Palawan, El Nido, a first-class municipality with 18 barangays and 41,000 residents, has hogged the headlines in recent months after the national government warned local officials to address environmental problems caused by tourism activities.
"It seems that we do not have a low season anymore," said Irma Marcelo, executive director of El Nido Foundation, one of the NGO representatives in El Nido's Protected Area and Management Board (PAMB).
"Years ago, some hotels and restaurants in the town were closed from June to August and their workers could still go on vacation because these months are considered as the low season," she added.
"Even without the closure of Boracay, there's a huge increase in tourists here," RJ dela Calzada, El Nido's municipal administrator, said.
Tourist arrivals in El Nido have grown exponentially in the past 20 years. Municipal tourism data showed that from 10,749 tourists in 1997, the number of visitors reached 144,257 in 2017. Annual growth in tourist arrivals has not gone below 15% since 2011.
Since 2008, El Nido has been one of the top 3 destinations in Palawan, along with Puerto Princesa City and Coron. The town boasts of limestone cliffs, lagoons. white-sand beaches that are less crowded than Boracay.
The town was declared part of the El Nido-Taytay Managed Resource Protected Area (ENTMRPA) in 1998 by virtue of Presidential Proclamation 32 to "ensure a long-term protection and maintenance of biological diversity, while providing at the same time a sustainable flow of natural products and services to meet community needs."
"What we are promoting here is nature. We are not promoting parties," Dela Calzada said.
Before the recent tourism boom, the town was popular among European backpackers. Provincial tourism data showed foreign tourists accounted for 61% of the tourist arrivals in El Nido in 2017, compared to 41% and 33% in Coron and Puerto Princesa, respectively.
The town hosts high-end private resorts – Lagen, Miniloc, and Pangulasian – owned by the El Nido Resorts group.
"People used to think that they cannot afford to go to El Nido because it is very expensive," said Henri Fernandez, president of the Cottages, Resorts and Restaurants Association of El Nido.
More accessible
Local officials believe that increased accessibility to El Nido and the town's media exposure helped transform it into a popular tourist destination.
El Nido's airport used to primarily serve visitors going to the high-end private island resorts. In recent years, commercial flights have connected the town to Manila, Cebu, Puerto Princesa, and Davao City.
Following Boracay's reopening on October 26, 2018, a local boutique airline resumed its daily flights between El Nido and Caticlan, the gateway to Boracay.
Improved road conditions shortened the 230-kilometer bus trip from Puerto Princesa City to El Nido from 8 to 6 hours. Vans from the Puerto Princesa City Airport can cover the same distance in 4-5 hours. This shorter travel time encouraged a lot of day tourists.
Media exposure
"We get free advertisements from reality shows shot here," Dela Calzada said. "We do not practice aggressive marketing."
In 1999, the town was featured in Expedition Robinson, the Swedish precursor of the US reality series Survivor. Since then, the town had served as the location for a leg of the Amazing Race in 2004, and the 7th season of Koh Lanta, the French edition of Survivor in 2007. Another season of Expedition Robinson returned in 2009, followed by Survivor Israel's 8th season in 2016 and 2017.
The town's limestone formation was also featured in the 2012 film Bourne Legacy. In January and February 2018, filming for Survivor South Africa restricted access to some of the tourist spots.
"Tourists keep on coming after we were featured on television shows," Henri Fernandez said.
Travel magazines and websites have also included El Nido and its beaches in their lists of best tourist destinations.
In 2014, El Nido's Secret Lagoon Beach was named the 4th best beach in Asia in Tripadvisor's Travelers' Choice awards (Boracay's White Beach topped the list for that year). El Nido also landed in the 4th spot in Conde Nast's "The 20 Best Beaches in the World 2017" list.
"The water is so blindingly blue it makes the Caribbean Sea look murky in comparison. And the sunsets? Well, they'll ruin you for life. Consider yourself warned," Conde Nast said.
Travel ratings website TripAdvisor named El Nido's Nacpan Beach, about 20 kilometers from the town center, as one of the top 10 best beaches in the world in 2016.
Price of the boom
On November 14, Philippine government officials announced that El Nido will undergo rehabilitation to address environmental issues resulting from tourism growth. Local officials also said they will close 22 establishments that violated regulations.
Unlike Boracay, El Nido will remain open to tourists while it is undergoing rehabilitation.
"A lot of things have changed for the past 20 years. When I was still young there were also cottages here but most of them were made of indigenous materials," a local businessman said. "This is very different from the El Nido of my childhood."
Asked about his view on the tourism boom in his hometown, he replied: "We're not prepared for it."
Source: Rappler
The El Nido Beach Investment Report 2023
Learn more about market forecasts & exciting opportunities to enjoy invaluable financial benefits with special privileges in Southeast Asia's fastest growing tourism industry.