X Close
Our Projects
Blissfully situated on a lush clifftop promontory in an exquisite island destination, our portfolio of ultra-luxury residencies is open for investment opportunities for a very limited time. These properties are conceptualized by a celebrated design studio and constructed in harmony with nature.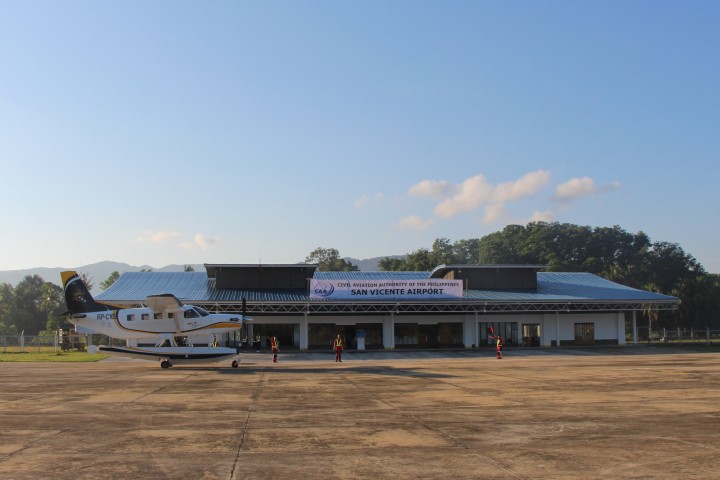 May 10, 2018Palawan Town Eyes 100,000 Tourists in 2018 as San Vicente Airport Opens
PALAWAN, Philippines – The emerging tourism town in San Vicente in northern Palawan expects to welcome 100,000 tourists in 2018 as its airport was finally inaugurated on Thursday, May 10.
"San Vicente projects to log up to 100,000 tourists for 2018," municipal administrator James Inawasan said.
Seen as the Philippines' first Flagship Tourism Enterprise Zone, San Vicente is home to the country's longest white beach, known as Long Beach, which boasts a stretch of 14 kilometers spanning across the coastline of 4 barangays.
This first-class town, located 186 kilometers north of the capital Puerto Princesa City, boasts of 22 islands and islets with fine white sand beaches, azure-blue waters, abundant rainforest, and exotic biodiversity. (READ: San Vicente, Palawan: The rise of the ecotown)
Inawasan said the opening of San Vicente Airport for commercial operation was a "good timing as the municipal government is very aggressive in its preparations when it comes to tourism development."
"We started out by firstly assessing our tourism readiness, checking how ready we are for the possible influx of tourists, not just because we are an up-and-coming tourism destination but mainly because of the spill over of tourists from Boracay, El Nido and Coron," he said.
Like Boracay, Palawan's flagship tourism destinations El Nido and Coron are also going through the same cleansing by the Department of Environment and Natural Resources.
Inawasan said the municipal government had launched a similar move, focusing the ongoing crackdown on erring tourism establishments in Barangay Port Barton, the jump-off point for island hopping in town.
"There will be a number of establishments that will be compelled to self-correct," he said, citing problems with drainage, septic tanks, easement as among the common environmental law violations.
These tourism-related problems observed, Inawasan added, would be addressed by the town's updated "sustainable and inclusive municipal tourism code" that would take effect within the next two months.
Meanwhile, top officials of the Department of Transportation (DOT), Civil Aviation Authority of the Philippines (CAAP), and provincial and municipal government graced the inauguration of P62.7-million San Vicente Airport.
DOTr Secretary Arthur Tugade said the newly-opened airport will provide another convenient gateway to the islands of Palawan, allowing tourists to visit and enjoy its pristine beaches, waterfalls, and more.
"President Rodrigo Duterte is committed to ensure tourism growth in the Philippines. But in order for tourism to flourish, we have to put in place what we call 'connectivity' and 'interoperability,'" he said in a press conference Thursday.
Tugade said the airport would begin catering to commercial flights, specifically by Philippine Airlines, by June.
Cebu Pacific is also considering the marketability of flying to San Vicente, he added.
After almost 9 years since construction began in 2009, the airport opened to light aircraft in June 2017, while charter flights from Air Juan was launched in August 2017.
Palawan Governor Jose Alvarez has submitted an airport development project proposal to the CAAP. The proposed airport site, he said, is in Barangay Abongan in Taytay town, an hour's drive from San Vicente.
"We're proposing one more international airport in Taytay to service El Nido, as well as the northern island towns of Linapacan, Dumaran, and Araceli," he told the media.
The proposed airport, he added, can initially accommodate two trips of Airbus A330 from Europe.
Alvarez also said the provincial government is eyeing another airport development in southern Palawan that would connect to China. "It is being pushed by Chinese investors because they want to bring in spices from southern Palawan to China," the governor said.
Tugade, meanwhile, assured that the DOTr would provide funding support to the proposed airport projects.
"In less than two years, we opened the international airport in Puerto Princesa, and then now San Vicente. We are also assessing other areas for the possibility of constructing additional airports. Isn't that proof that the Duterte administration and the tourism department are focusing on Palawan as a tourism destination?"
Source: Rappler
The El Nido Beach Investment Report 2023
Learn more about market forecasts & exciting opportunities to enjoy invaluable financial benefits with special privileges in Southeast Asia's fastest growing tourism industry.