X Close
Our Projects
Blissfully situated on a lush clifftop promontory in an exquisite island destination, our portfolio of ultra-luxury residencies is open for investment opportunities for a very limited time. These properties are conceptualized by a celebrated design studio and constructed in harmony with nature.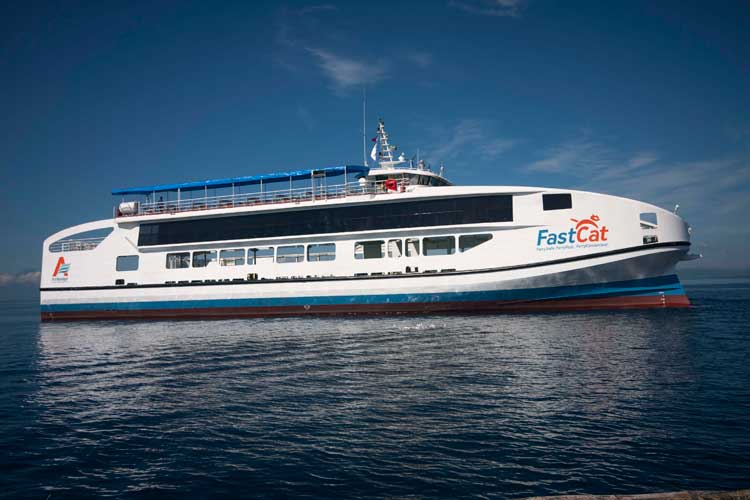 February 25, 2019FastCat will Connect Palawan to Malaysia
FASTCAT operator Archipelago Philippine Ferries Corp. (APFC) is aiming have 30 vessels in its fleet by 2020. "To complete our fleeting of 30 ships by 2020, we need 18 ships," APFC President and Chief Executive Officer Christopher S. Pastrana told reporters in a briefing on Thursday.
At present, FastCat currently operates 12 ferries.
On Thursday, APFC signed a P1.726-billion, 12-year loan agreement with the Land Bank of the Philippines (LBP), with the proceeds to be used to acquire five new FastCat ferries.
Earlier this year, APFC already commissioned the construction of three vessels.
Mr. Pastrana estimated the cost of each vessel at around $8.3 million, bringing the cost of 18 ships at roughly $149 million.
APFC expects the eight new ships to be deployed by the first half of 2019.
Mr. Pastrana said the new vessels are equipped with Tier III engines that produce less emissions. "In the Philippines I would be proud to say that we would be the first one to use Tier III engines," he said.
Further, the vessels will also have a flooding containment system, which will prevent water from entering in the event the hulls are punctured.
The new FastCat ferries will be 54-meter in length, longer than the average 49.9 meter, and are designed to withstand Philippine waters.
By 2019, the company targets to open additional routes: Bulalacao, Oriental Mindoro to Coron and Puerto Princesa, Palawan; Lucena to Marinduque; and other parts of the Visayas and Mindanao regions.
Mr. Pastrana said preparations are also being made to open a new route that would link Buliluyan, Palawan to Kudat, Malaysia before the end of the first quarter of 2019.
Source: BusinessWorld
The El Nido Beach Investment Report 2023
Learn more about market forecasts & exciting opportunities to enjoy invaluable financial benefits with special privileges in Southeast Asia's fastest growing tourism industry.