X Close
Our Projects
Blissfully situated on a lush clifftop promontory in an exquisite island destination, our portfolio of ultra-luxury residencies is open for investment opportunities for a very limited time. These properties are conceptualized by a celebrated design studio and constructed in harmony with nature.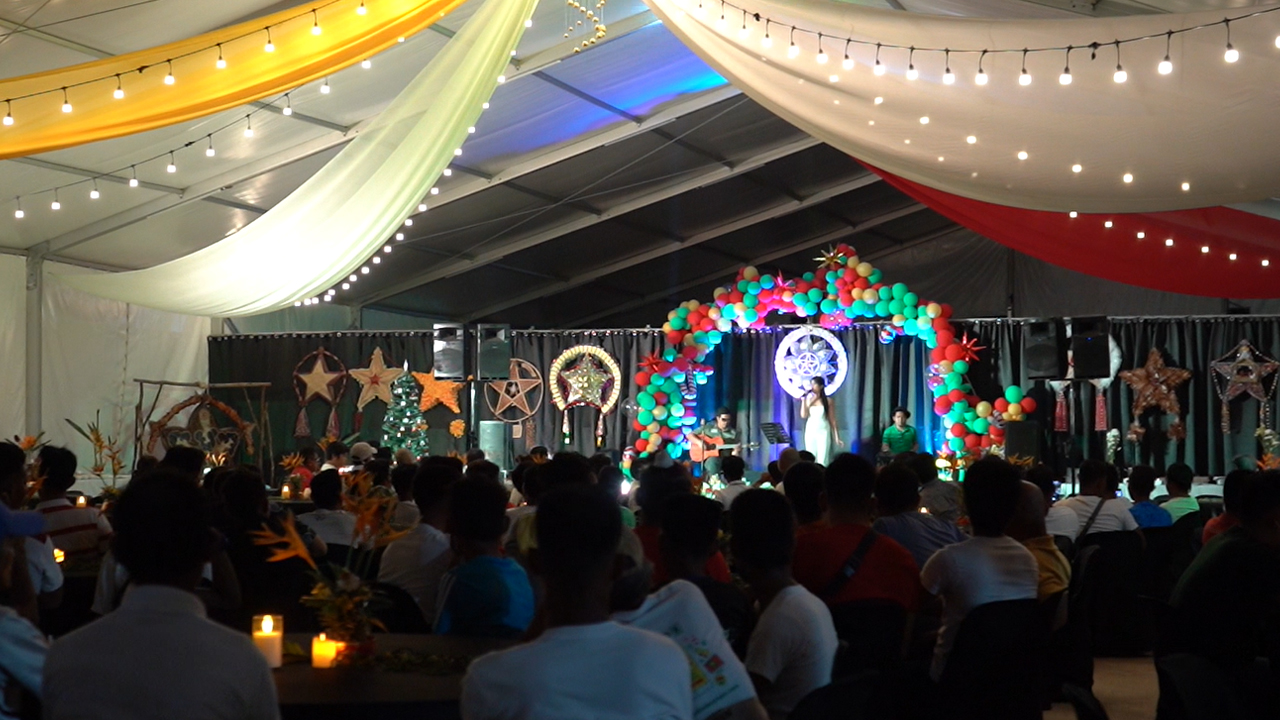 December 23, 2022Merry Christmas from EcoTown El Nido
We'd like to wish you and all your beloved ones a very Merry Christmas, from El Nido, Palawan, Philippines. We hope you'll be able to spend some valuable family time, and in case you are going through these special days on your own, we'd like to address you with a warm and friendly thought.
Despite the worldwide economic consequences of the humanly dramatic Ukraine War, 2022 has seen the premises of a global recovery, especially in the luxury hospitality sector (which is experiencing a very dynamic high-season uptick trend here in South East Asia), and we are confident that 2023 will usher in more positive trends continuing.

Eureka Resorts offered to all its employees and local partners a joyful celebration
In our modern and globalized world where traditional moral values are more than ever challenged, Christian faith stands still in The Philippines where most Filipinos are fervent believers. Christmas celebrations are as rooted and as important as it is in Western countries, if not more in certain aspects, making the Philippines an exception in South East Asia where all other countries are dominated by Buddhism or Muslim faiths.
A week before family gatherings time, Eureka Resorts therefore wanted to offer a celebration to all its employees, consultants and local partners, to thank them for the amazing 2022 accomplishments, to strengthen an already well established company spirit, and to officially place EcoTown El Nido on the map.
The event was all organized internally, with the hands on involvement of President Gemmalyn Crosby, and under the minute-by-minute coordination of CCO Kathy Solis and newly appointed Admin Officer Ellen Siu, maximizing the use of internal and local resources, and even employing El Nido locals to complement the needed manpower to mount the Christmas event.
December 17th, 2022 was when the first ever big event officially happened in EcoTown El Nido.
An event worth being told.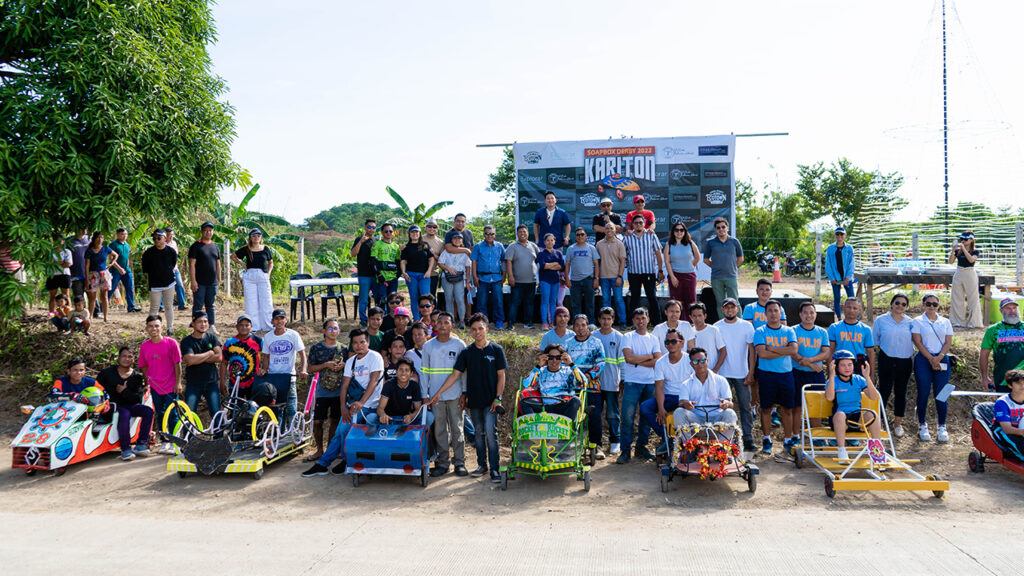 The "EcoTown El Nido Soap Box Kariton Derby 2022" race: handmade motorless carts made from locally recycled and assembled materials
The day started with 6 teams competing in a multi-faceted competition, where not only racing time was scored to evaluate the team, but also the kart design and the team's cheer performance.
With competitors first driving down the road initiated by a big starting "push" by teammates while one to two drivers are positioned in their artisanal non-motorized race rides reaching up to 40km/h, aiming at a jump on a small ramp before being supported by the team's "pushers" in the last stretch, this not only had a taste of kart racing but also of a tropical bobsleigh that had to move down through a 600-meter stretch of the national highway.
From site workers to the bosses' family team, the EcoTown El Nido Soap Box Kariton Derby 2022 edition also saw even the local tourist police competing in this joyful, colorful, and suspenseful competition. Congratulations to the "Black Pig" team composed of onsite construction workers for their win on the overall challenge ranking.
Inauguration of EcoTown Events Pavilion, a unique 1,000sqm venue in El Nido
The morning race led to an evening of festive dinner in the newly completed 1,000sqm EcoTown Events Pavilion which had full curtains and stage set-up with hand-made Christmas Star Décorations hung in front, the official entries for the Parol-Making Contest, a traditional Filipino decoration that comes in different shapes, sizes and colors. While about 300 sqm is still used to store some valuable construction materials, about 700 sqm are now operational to host private or public events with all necessary equipment, lighting and sound systems as well as access to the nearby site kitchen facilities for food catering.
A unique facility in the whole El Nido area, it will be open to external guests willing to organize large-scale events as soon as next year.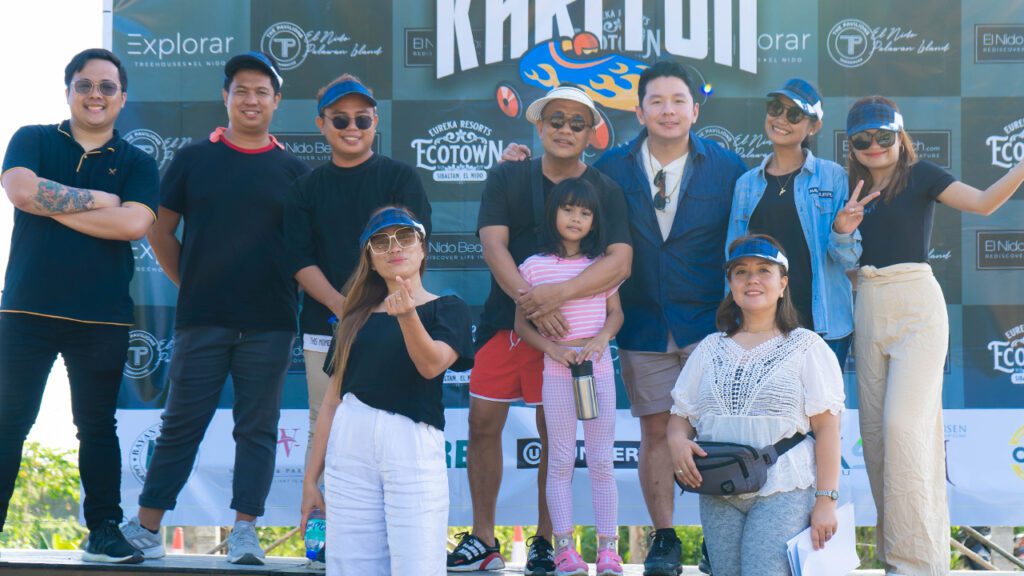 Philippines' celebrities hosting a series of dancing and singing performances for all company employees, local partners and local VIPs
Local film and television celebrities Dante Garcia (film director of independent film "Ploning" who is also a native of Palawan) and actor Marc Solis (cast member of the Philippines' longest running TV series "Ang Probinsyano") were the funny and high-energy emcees of the derby and the festive dinner show, taking guests from one surprise to the next. From traditional cultural Sibaltan dances, to a hilarious dance number choreography by employees clad in Santa Claus outfits; from a professional guest singer performing popular pop-rock classics to the most daring team members closing the show singing karaoke; from the Kariton race same day edit viewing to more business-oriented speeches.
All that if front of an audience composed of construction site workers, all of the site's chief engineers and architects, Manila office admin personnel, and a number of influential local VIPS.
Founders restating project vision and 2023 missions
President Gemmalyn addressed the audience with sincere speeches where they put focus on thanking all company employees, from field to HQ operations, local suppliers and business partners as well as local authorities.
When asked in interviews what was the secret of his success, Jack Ma (Alibaba founder, billionaire and philanthropist) usually gave the same answer "Hire best the people, teach them the vision, and make them work together pursuing this vision". He also usually insisted on team work, and the vision, explaining that even the best people would not be achieving anything if not working together, and that even the best people working together would not be achieving anything if not sharing the same vision.
The El Nido Beach Investment Report 2023
Learn more about market forecasts & exciting opportunities to enjoy invaluable financial benefits with special privileges in Southeast Asia's fastest growing tourism industry.