X Close
Our Projects
Blissfully situated on a lush clifftop promontory in an exquisite island destination, our portfolio of ultra-luxury residencies is open for investment opportunities for a very limited time. These properties are conceptualized by a celebrated design studio and constructed in harmony with nature.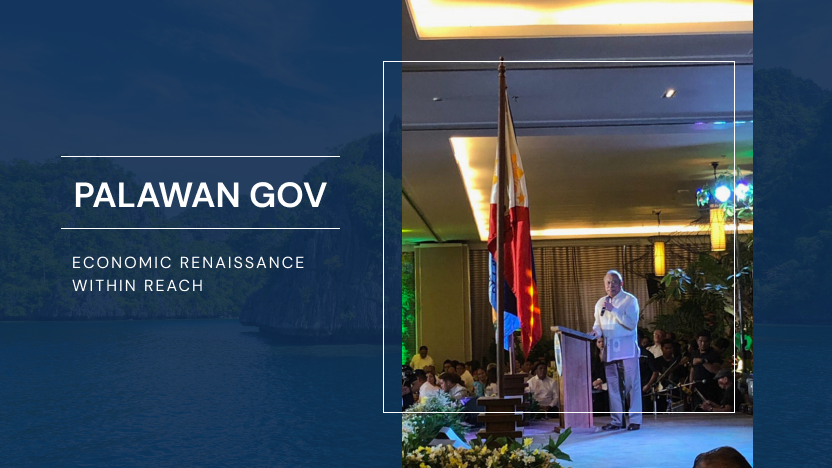 July 1, 2019Palawan Gov: Economic Renaissance Within Reach
PALAWAN  Gov. Jose C. Alvarez has vowed an economic renaissance for the province, which is set to be divided intro three provinces, anchored on a platform of tourism that would reduce poverty incidence to 26 percent from its previous level of 60 percent.
Alvarez made the promise after the oath-taking of the newly elected officials of the municipalities of Palawan in his inaugural address at the City-state Asturias Hotel. There, he bared the building of four regional airports in the province that would bring in a target of 5 million tourists and money in circulation of P250 billion from tourism.
He said that poverty incidence has been reduced by 4 percentage points to 56 percent since he assumed office with his Partido ng Pagbabago, but this is not enough to make a dent on the poverty level in the province.
But with the tourism target of 5 million that could come about from the building of tourism infrastructure like the regional airports in Coron, Balabac, San Vicente and Taytay municipalities, the target could be reached and spell economic growth that would employ people from the province.
He vowed to surpass the number of tourists in Cebu (7.5 million) and increase the per-capita income of the province to approximate that of Malaysia's 27,000 ringgit (about P250,000). He said this could be achieved especially with the programmed Roro projects where he said tourists can go by land from Mindoro and Batangas.
"I can welcome senior citizens from Palawan who can use the Roro and treat them to coffee in Makati," he said, with the planned infra buildup in the province.
"Lahat tayo damay damay [We're all in this together]," he said as he pitched for the establishment of the three provinces in the province: Palawan del Norte, Palawan Oriental and Palawan Del Sur, which would be the mother province as envisioned under RA 11259,  which President Duterte signed on April 5, 2019.
A plebiscite is scheduled in May 2020 for the ratification of the planned three provinces.
Alvarez said the three provinces can earn an IRA of P60 billion that could be used in reducing poverty incidence in Palawan. He said that the target poverty reduction to 26 percent is achievable since tourists have now reached 2.5 million, up from a measly 300,000 tourists when he began his term.
Also, he said that there has been a considerable growth in the province from negative 1.6 percent earlier in his term,t which began in 2013. "As you can see, the party has changed the face of Palawan," he said, and vowed that the economy would further grow.
Source: businessmirror.com.ph
The El Nido Beach Investment Report 2023
Learn more about market forecasts & exciting opportunities to enjoy invaluable financial benefits with special privileges in Southeast Asia's fastest growing tourism industry.